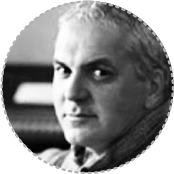 Explore
Mark Sayer-Wade's LibraryMark Sayer-Wade is one of the UK's most successful composers and producers. His credits include recording and producing the BBC single Perfect Day and writing the music for hit many hit TV series including 'Who Do You Think You Are' and 'Where The Heart Is'. He's also a prolific producer of commercials and ident packages, who's worked for brands including Diet Coke, French Connection, Sky and the BBC. As a proud member of SoundVault's composer community, who better to share his experience and wisdom. We caught up with him from his studio near Henley on Thames in England…
SoundVault: Thanks for taking the time to talk to us, Mark. We're aware of your huge experience and reputation, but it would be interesting to know how things started out for you.
I started playing musical instruments when I was three, in the early 60s. All I really wanted to do was make music and I won competitions all the way through school. I wanted to write, Id had enough of theory and study and just wanted to get my hands dirty.so I wrote off letters to everybody in the industry, all the recording studios, and every one came back and said 'no', pretty much.
I liked the recording side of the music industry, I found that very interesting. Abbey Road actually sent me a really nice letter, saying "sorry but you don't have a degree so we can't accept you" (Ironic as I went on to be one of their biggest clients !). So I went to a studio called Morgan in Willesden which was a wonderful place to train and served tea and stuff there. I become assistant engineer there and then I got a break over at the Marquee studios, which was part of the Marquee group in Wardour Street. So, I went over there to work and within a week I was engineering, at the age of 17. I was operating the huge consoles and tape machines, though I didnt get paid as an engineer for another five years because in those days, that's how long it took to train an engineer. . It was pop music primarily, though the first thing I ever worked on was the original Evita soundtrack recording, if you look on the back cover of the album sleeve it says "tea served by Mark." That project was in '77 and I got the most amazing break on that. Stan Baker was doing the brass arrangements and he just needed a copyist and so I was working with him and working on parts as well as serving tea. It just kind of snowballed from there so it was bands like The Jam and The Cure and Status Quo, Toyah – one hit after another Then I got a very nice break when a writing partner and I managed to get some funding from EMI in the UK , from Phonogram in Benelux and CBS in Scandinavia. This was still doing production but within five years I'd worked on over 30 Top 40 hits
SoundVault: You were definitely a recording engineer first and foremost in your career. Were you doing any writing at that point?
I never stopped writing, it was the thing I did before, sometimes during and for sure after the day job ,!, but , what a great day job I had,I used to do backup vocals during the sessions and sang on a load of things. I became by default the reggae engineer – mostly – because I was the only guy who didn't mind being around whilst people were smoking dope, even though I never smoked it. It was a really eclectic background – a smorgasbord of recording. I was playing on stuff, I was recording it, I was producing some of it and I just had a ball between 77 and 84 working on all these wonderful hit records – I was really lucky to get that kind of break. That led into the EMI thing, which was a money in the bank publishing contract. And then I was in a band called Tiers Opera and very lucky to be working with people like the Royal Philharmonic orchestra, at such a young age.
SoundVault: You said that your original ambition was to be a writer. Was that to be signed to a publishing company and doing songs for others, for pop bands for example?
My journey to become a pro Composer was a long one, everything about the early years contributed to it, from sitting on a minibus when I was about 10 years old, getting ferried all over Britain in one of those old buses with no windows in the back. We went to all the cathedrals in Britain, to sing Bach, Handle, Mozart et cetera and I was singing boy treble in that. So whilst I had the full classical background, of course in the 1970s what you became really aware of was people like Uriah Heap, Genesis and looking at it all and thinking this is what I really want to do. So I was performing, but I was writing a lot – not just musically – and that really helped with the lyrics which was of course very important in those days, perhaps less so now. The storytelling aspect was vital to music . This fitted in well with my later experience of writing music for Who Do You Think You Are. That programme is all about storytelling, so I really loved being involved with that., but , to answer the question the publishing contracts I've signed throughout my career were always offered, I never sought one out , more recently publishing contracts for Film and TV composers have become more assignments of contracts to the publishing representatives of the projects generator i.e. the tv or film company.
SoundVault: How did you move on from being a signed artist and into the next stage of your career?
In 84 I'm contracted to EMI and realised that I didn't want to be traveling all the time,I wasn't really happy on that side of the microphone. Somebody offered me a the chance to score a commercial for Kleenex Family Tissues and I got paid more money in two weeks than I had in the previous year. This came thru' a friend of mine who had gone into the advertising industry and invited me to write the music. I didn't really know what I was doing but I think I've done over 160 commercials, now – that averages out at about four to five a year.
I absolutely loved writing music for commercials. That in turn led to my scoring soundtracks. I got a break to write the score for a film called Who Killed Martin Luther King and got to write gospel, which proved to be very useful when I later went on to produce Perfect Day, where gospel was a key element.
SoundVault: With such a wide background and experience, did that mean that you were able to write, produce and provide pretty much and end-to-end service for your film and advertising clients?
When I started in advertising, I wasn't short on the writing front but I was short on the real skills of being able to listen to and interpret a brief. I remember doing one commercial for Yellow Pages and they said "we want this" and I was thinking 'no you don't, you want this', so I delivered my version and I got fired. I only did it once. Next time round I asked "What do you want? OK, I can do that." Then you just do what they want, hopefully keeping a chunk of yourself in there as well, but, as a professional composer the first rule is, its their film and you're a part of a team
Most of the people in the TV and advertising industry are really smart, so I just get out of the way to a certain extent. Some one recently asked me about how I managed the recording of Perfect Day, with all those big names, and I said: "I just got out of the way. I made the studio available, I got all the backing tracks ready but then I got out of the way because if you've got David Bowie in the room, you don't have to say anything. He knows what he's going to do and he's going to do it better than I could ever tell him to. It really is that sort of relationship.
The same applies to writing for TV, in a way. The first drama series I did was 'Where The Heart Is' and I worked with the Director Herbie Wise, who listened to what I'd done and said "Mark, let the actors do it, you don't have to write so hard." And he was entirely right, it was a good lesson again. Now things have shifted further, a lot of the scores in TV drama these days are doing very little.
SoundVault: When you're given a brief for an advertisment, it's pretty specific, as you mentioned. How does it differ for a television production? Do they give you free reign based on your reputation, or are they also quite specific in what they request of you?
I think everybody is specific, in as far as they know what they want. It's very rare that you get a brief where they're completely hands-off. The production is such a complex structure of many parts – like an engine – and it has to all sync and gel together. That's led to a lot of formula writing which I don't particularly do and I don't particularly like. I think formula writing is wrong. Say for instance in the modern action genre where everything is ostinato strings, it's just boring and you can get a million writers to do that. For me the prerequisite of every composer should be that they can write a tune. Background music is different, of course. I was trained with reference to opera, so a lot of it was motivic - every character inside the drama has their own tune. In a drama where there's five characters, each of whom has their own tune, you can always fall back on that and say 'this is his tune' and the public feels happy with that. You're not spoon-feeding them or anything like that but it's just a guiding light to navigate them through, and that was something that we were taught very heavily in the old school and I am an old-school writer, I can't deny it.
You never stop learning as a composer. You always get a shock and think 'I'd never have done that, it's really cool that they did that and it works really well. Light motivic is very important so that you've always got somewhere that you can go back to with the characters. That's how I learned and that's how I write, not in that modern style of nobody having a tune and it all being neutral or uncommitted. The best light motivic writer around is Ennio Morricone – when you look at his more recent stuff like Malèna, or Cinema Paradiso, you're in the world of beautiful light motivic writing and nobody does it better than him – I go to every gig that he does in London. Nino Rota is another great example with his scores for The Godfather and La Dolce Vita.
SoundVault: Soundtracks may be providing background but as you say they're also providing reference points for the audience and they are therefore very much part of the whole production. It's not just music added to it, it's also helping guide the story. Would you agree?
There are genres like documentary where the music can be taken off the shelf because you are literally just backing up a message and when the script is written they have no idea which library they'll be going to for the music. So they come across something like SoundVault and they go 'OK, this is great, I've got everything that I need here. I can select these separate elements, bundle it up and it will cost this much and job done. Often the production process today does not allow time to brief a composer – it's not like the old days where you would literally be spending months on a production. Now you can be in and out very quickly. For example, I did the music for the 7/7: Attack On London documentary, where we were literally finished within a week. When I did The Gulf War documentary in 1996, all of the Premiers like Margaret Thatcher said that they weren't going to speak but as soon as one of them said "yes I'm doing to do the interview", they all did it. So the music had to be changed within 24 hours. This is where computers started to come in bigtime to the process changed so radically as you couldn't use the techniques or indeed the people who'd been used in the old days. These days, that music would be taken off the shelf, using a service like SoundVault.
SoundVault: To what extent do you typically form the ideas for a series or a drama film before you've seen any actual footage and to what extend to you have to amend that later?
In an ideal world the cuts would all stay the same. That's the least favourite bit of my job – when you've written a piece of music that's 24 bars long and it hits everything perfectly and then they change the film. You risk having to dilute it down but I've learned over the years to dilute it down but then come back with something stronger..
When you get a phone call from a producer describing the concept, for instance "we're traveling down the Nile and the first film will be with you in four weeks' time", you start thinking Egyptian straight away, and thinking in those motifs. I always try and come up with the tune and sum up the person, so on 'Who Do You Think You Are ?' there were over 80 different people and each person had their own music. You get a bit precious about that and you think 'this is definitely the theme for Ian Hislop or Jeremy Paxman or whoever. And then what they did – very cleverly – is that they sold the music to Universal who put it out in their library and I've heard pieces of music that I've written for a really sad story in the West Indies, used on a sports programme and it actually works really well. I'd never have done that, so nowadays I do the best I can and it will get used and hopefully reused again and again if it's a good piece of music and that's a lovely thing. With Who Do You Think You Are, I heard the music used in a Norwegian version of the show and still sounded great.
SoundVault: Do you keep a moral right over your music, if you're commissioned to write a piece, or does it become the property of the person who commissioned it?
It depends on the contract of course. Today TV companies place so much money into these shows , and with the huge growth in the number of channels and hence shows it has created a a constant demand for high quality music that is correctly licensed for use. So you do have to expect for your music to be re-used in other ways.
SoundVault: Have you ever found your music being repurposed and wished that your music hadn't been used in a certain way?
Not at all. I once used an expression to my sister "art inspired by mortgage". That may sound a bit glib but it's not meant to be. The business models now are so tight. Every artist is aware of the fact that money is very tight out there and we need to change our own business models if we want the industry and ourselves to progress forward. One of the big things that's changed is the annexing in of the Far East. A lot of my royalty streams now come from Hong Kong and Singapore, which when I started out wouldn't have happened. China is an area that I really want to grow into because musically it's fascinating. You become aware of the fact that there's a whole new world and another genre of music out there. They've got some great stories to tell out there. All of those things can be opened up, so long as the artists can say 'I've got to bear in mind that I'm in a different marketplace now, a different culture , I need to respect it and listen to local needs"
The royalties are also bigger – more and more money is generated on the backend and less on the front. In the old days you'd have got five or ten thousand pounds for a documentary episode and now you're lucky if you're clearing two and half but there's an extended lifespan and you're seeing a larger royalty stream over time. The royalty side has become much more important to composers. The one thing that we've all got to watch is that we don't give away the composition. We can't work for free – if you work for free you can never get that price up and you'll pretty quick go bust. A reasonable amount is good because it's a bigger market but free is different and there are some people who will work for free and I don't personally agree with it, even to break a career, because you'll only ever be known by the director as the guy that works for free.
SoundVault: How important is the portion of your income that comes from collecting societies over time, as opposed to upfront payments? Are those payments always safeguarded from devaluation?
Not necessarily. There is the work for hire argument. We do get work for hire happening, even in the UK, where your up front fee is all you're going to get. Many business models inevitably try and get people to work for nothing or next to nothing but it's not the way forward. There have been some great people inside TV – like Mo Derbyshire who would turn round and say "why are we asking people to work for free. We are a huge television company and we can afford to pay for it." That's how you get longevity in an industry and really good stuff happening. In previous decades people spent big money but they expected great. If you're paying peanuts, you are going to get rubbish music. If you're paying good money on the commissioning side then it will allow the composer to experiment a bit more. It's a respect thing as well, you need the mutual respect. We know that the dollars have shrunk but the composer needs to be able to say "I need a violin on that" and I was so lucky on Who Do You Think You Are because the producers would say "OK then, we'll get a violin." You can't do certain tricks – such as Irish music – without a great player. We've probably gone as close to the mark as we can get, financially for composers now. We have got toys in the box and the producers know that, but there are times when you need a real accordion or a real singer.
SoundVault: How do you feel about the new platforms such as SoundVault are perhaps answering a different set of needs for quick, dare we say it cheap, and instantly-available music?
I think it's huge. Not everyone has the time or the money to commission music and that's where SoundVault comes in. The model that the team have put together really seems to work really well. It's an opportunity for the industry to be able to use great quality music at a very reasonable cost. Producers may not always use SoundVault, they may commission music exclusively as well, you just don't know. But the opportunity SoundVault provides for producers and composers to connect is just so important.
I've been very lucky and I've had a great career but it's much, much harder for people coming into the industry now. One of the great things about the internet is the platform. People can communicate and it doesn't matter what you're looking for – I'm writing a musical at the moment which is about quantum physics called The Destiny of Butterflies – it's a pretty complex area but I can go to YouTube and find anything I want, there are some great shows and you can really get into the detail on just about any subject . A lot of those shows have scores on them which will now come from services like SoundVault. The level of encouragement it gives to a young composer to hear his music used on a film is immense.
We also have a generation of composers coming up now who never experienced orchestras and wouldn't know how to write classically but they're also bringing something completely new to the table and it can be something that's really exciting. I don't want to hear young composers impersonating Mozart, I want to hear where they're coming from.
SoundVault: What are you personally working on now?
TV series, an animation series and trying to get this Destiny of Butterflies musical going. I'm working on library music with various people. Never a day goes by where I haven't written a few tunes. I'm very luck in that I've had a very good career and I've got some lovely clients and they do tend to come back for more.
SoundVault: Who Do You Think You Are has been particularly successful. Can you tell us more about how you got involved with that?
On that series, the executive producer (producer A) knew another exec producer (producer B) from another TV company who recommended me saying "this guy's done three series for me, try him." So they tried me and I got on really well with the new executive producer and I found myself on the series. So that was an example of having done my time and it paying off. Interestingly however on the first series I did for producer B, I did it for very little money. I think it was £1000 for a whole series but I did it because it was a really interesting project. So although I took a gamble on price in that scenario, that led to bigger budgets and finally Who Do You Think You Are has done incredibly well and travelled all over the world.
SoundVault: What tips would you give to writers wanting to get into the production music space?
You've got to be the complete package. You can't hope to succeed if you've not got talent but you also won't succeed if you can't get along with people. They're not interested in the gin soaked composer in the attic. I've picked up jobs where those kinds of people had been hired and proved too unreliable. Nobody wants that level of grief. You've got to be great to deal with, deliver on time, you've got to be able to ship, ship well, and it's got to be great quality music. You also have to be prepared to throw 90% of what you write out the door and not even look back. You can't push out average, it's not good enough. If you're not putting out the very best you can do, you're letting down yourself and you're letting down your client.