Where's the Money?
Part 1: The Money Maze of the Music Industry
So you want to be a full time musician? Want the good news? Statistics published by IFPI showed that global recorded music sales totalled $15 billion (approx £9.5 billion) contributing to $45 billion (£28.8 billion) that the global music industry is estimated to be worth.
There are dozens of potential revenue streams available in the exciting modern industry, however the bad news is that it's tough to get your head around them. Who owns what, and who takes which 'slice of the pie' can get a bit confusing. It comes as no surprise that in a report published by Rethink Music it is stressed there is a serious lack in transparency in the music business. The report also cites that more than 20% of royalties are not making it to their rightful owners (and in some territories as much as 50% are not making it to their rightful owners).
"Like few other industries the modern music business inherently involves millions of daily micro-transactions generating revenues from songs and albums… New technologies should have the ability to create a high degree of transparency for this process. The transparency has been largely absent from the music business; instead, the industry has, in many ways, applied less transparent frameworks, technology and processes that have evolved over decades in an era of music-as-a-product into the transformed, music-as-a-landscape. The result of this uneven application of technology can be a spectacular mismatch, creating friction, opacity and frustration"
Rethink Music 'Fair Music: Transparency and Payment Flows in the Music Industry'
You see, musicians need to be more than simply incredible songwriters, skilled instrumentalists or extraordinary vocalists. They need to be more business savvy and equipped with the skills and knowledge to navigate their route into the music industry and then develop and sustain revenue streams from their art form.
So, imagine this; you've written some great tunes, dedicated hours in the studio to create a recording and regularly perform live. How can you make money from your music?
Before we begin its important to understand that for every recorded song there are two very different copyrights associated with it. First, there's the composition itself ("Work"), which includes the music and lyrics. This belongs to the composer/songwriter. Second, is the sound recording ("Master") – this belongs to the person/company that paid for the recording to take place. We'll dig a little deeper on copyright another time.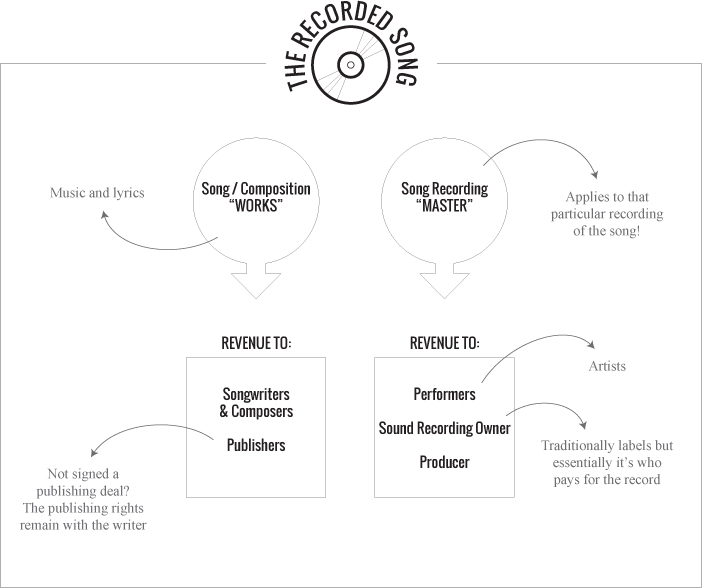 Income from the "Work"
As the songwriter you are entitled to public performance royalties. As the name suggests, income from performing rights is generated by the performance of a song whether it is live, a recording played in a public place such as a restaurant, club or bar, broadcast on television or radio, or streamed over the internet. In order to benefit from this valuable income stream, songwriters (and their songs) must be registered with the relevant collection society. You'd be surprised how many writers I come across that aren't registered and are missing out on royalties generated from their songs! Which collection society you register with depends on where you live. For example in the US you'll need to become familiar with BMI, ASCAP or SESAC while UK based composers will need to register with PRS for Music. In Australia and New Zealand APRA distributes public performance royalties. For a comprehensive list of collection societies worldwide check out http://www.soundvault.tv/links
Mechanical royalties are generated through reproduction of your song whether it is physical or digital (both downloads and streaming). If your song is sold as a ringtone you get paid for that too.
Income from synchronisation typically involves licensing a piece of music for audio-visual forms of media. This includes film, TV programmes, documentaries, video games, commercial/advertising, and corporate video.
Print/sheet music sales is the revenue generated from the sale or licensed production of sheet music whether they are single songs or part of a collection in a book.
Income from the "Master"
As the recording artist of the song, you're entitled to your share of the income generated from music sales. This includes physical product and digital sales. In the United Kingdom, PPL licenses recorded music that is played in public (including businesses and organisations) or broadcast on TV and radio and then distributes royalties to the owners of the sound recordings. To get a slice of this income you'll need to register with PPL. The equivalent of the PPL in other countries you will need to find so you can collect your public performance royalties from the master.
In addition to music sales, you'll also be entitled to revenue generated from on-demand streaming services.
Recording artists can earn money from synchronisation through Master Use synch licenses.
If you have the backing of a label you may receive a record label advance or financial support for a recording or tour.
Income sources for performing artists
Performing artists will get their share of revenue generated from live shows. This includes booking fees and income from ticket sales.
Brand-related income also provides an important income stream for artists. This can include the sale of merchandise such as T-shirts, hoodies, phone cases and posters (and pretty much anything else you can think of…have you seen the One Direction collection of soft furnishings, footwear and perfumes!?)
Similarly product endorsements can boost income or at least keep you in supply of their product.
Licensing revenue from your artist persona and/or artist name as well as acting can also generate income.
Okay so these last few haven't been related to the songs but are still valuable revenue streams that shouldn't be ignored. This is why labels came up with the 360 deals. These agreements enable them to receive a portion of the revenue generated from merchandise, endorsements, sponsorship and other activities in the entertainment industry such as acting or writing a book.
So there you have it; there are many opportunities for musicians to make a living from their art. We've just scratched the surface on some of the revenue streams available, and while some of these may seem incredibly obvious, it is essential to register with collection societies in order to obtain funds from these sources. We'll have a thorough look at collection societies another time.
Don't be afraid to explore some non-traditional channels for income too. If you're able to demonstrate some entrepreneurial flair you'll be adding "another string to your bow" in your musical career.